Hello everyone!! Wow, it's been a long since the last time i wrote a blog. If you have been following my make up page for the past years, you know that I had a tumblr blog before where i post all behind the scenes photos and make up reviews. I deleted that blog because of personal reasons and now i have a NEW ONE, a website + blog in one! I design everything in this website which explains why it's so colourful and so girly while Jerico, my boyfriend who is a web developer did the programming and technical stuff. Thank you so much love! We still have MORE things to work on with my website since we're both busy. But for now, I hope you love my site as much as I'm kilig every time i open it haha! Okay, back to the blog!
All photos are captured and owned by Julie Profugo. Please do not use the photos without permission.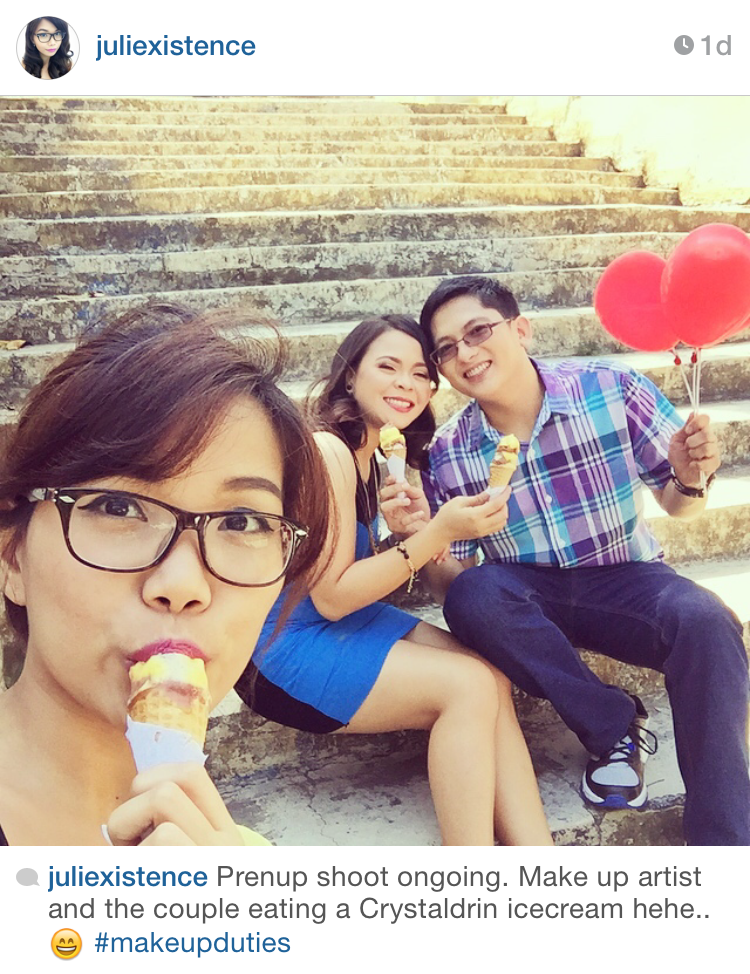 If you are also following me at my personal instagram account: juliexistence, you might have came across this photo where Im eating an ice cream with the couple in the background. It's a BTS photo I captured with my phone for Rosel and Jerich prenup photoshoot.. hehe. Btw, Thanks for the ice-cream! =)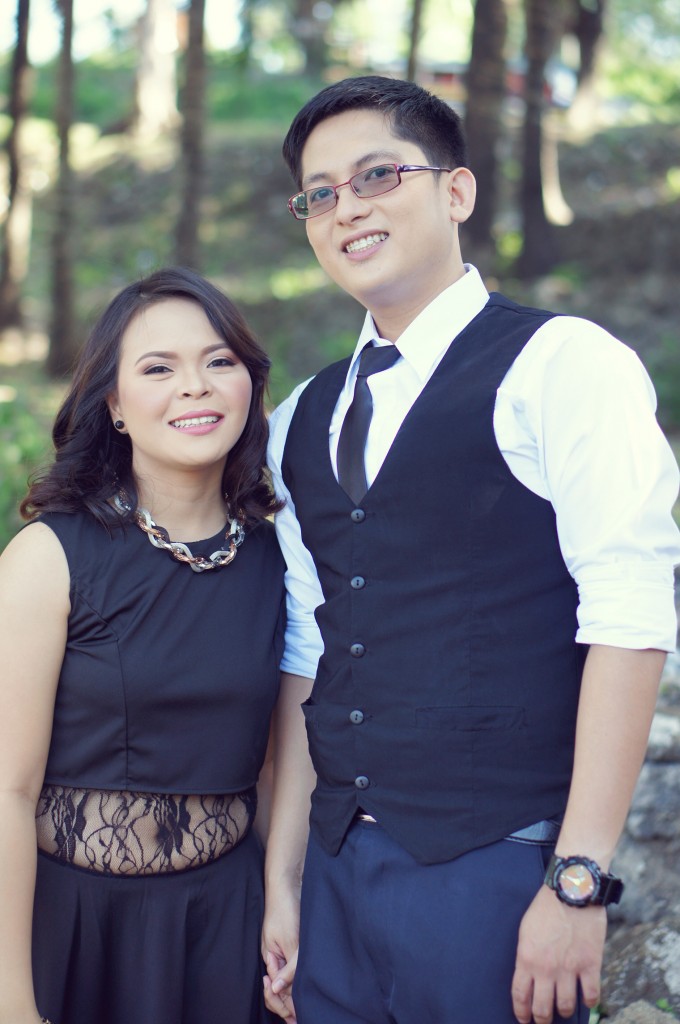 Meet Jerich and Rosel. They went to my home studio at San Pedro Laguna last Jan 25, 2015 to have their hair and make up done. I interviewed Rosel about their love story while Im doing her hair and make up which I'm not sure if I can share it with you guys. hahaha Im so sorry. But when I asked how did he proposed to her, the question he popped was not "Will you marry me?" but "Will you be a good wife?" Ayyiieee.. <3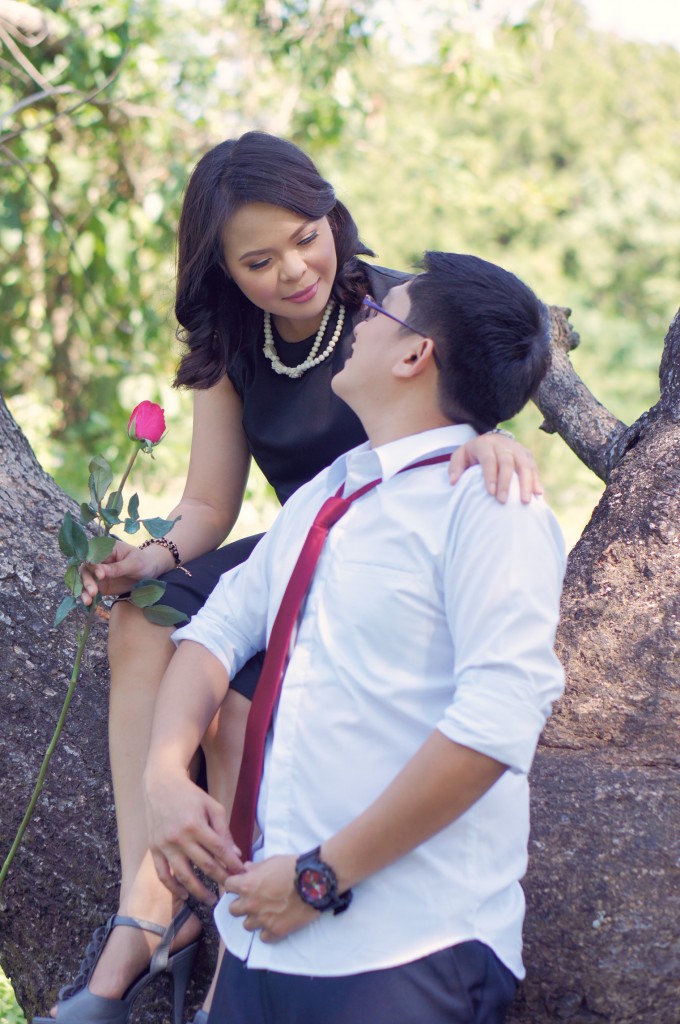 Originally, they plan to have their prenup shoot at Nuvali but I told them that they have to pay a certain amount and they need permit to have a photo shoot there. They followed my advice and we just did the shoot at Sunken Garden near Bilibid Muntinlupa. The bride and I are from San Pedro Laguna so its an advantage because it's near my make up studio and her house.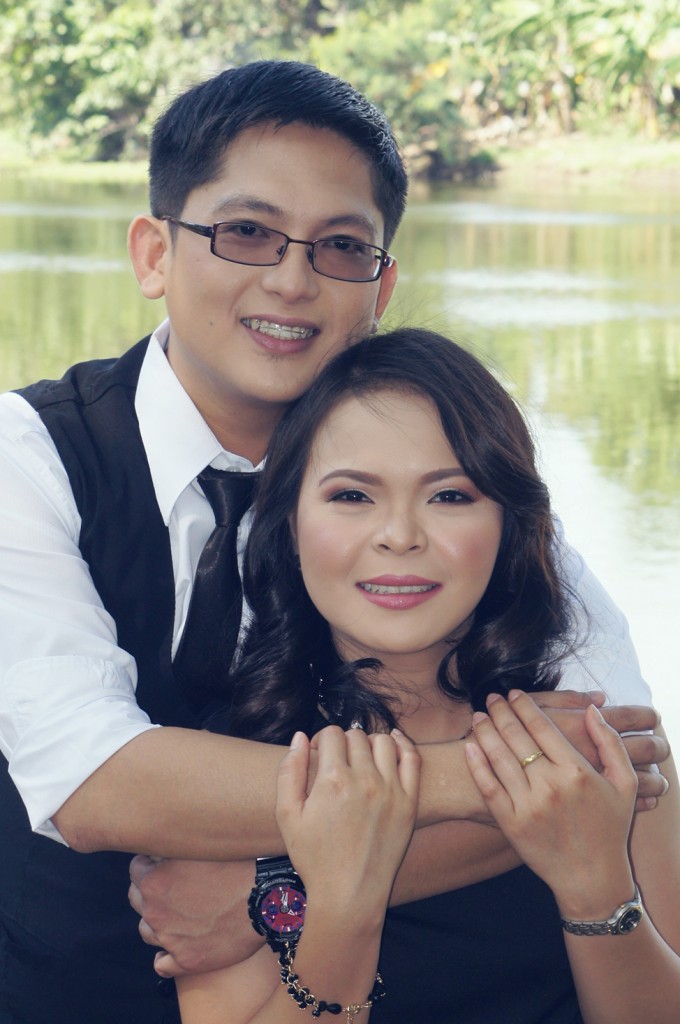 I tried to use flash to see if their face will have a white cast, you know that thing when you use flash on your camera and your face turns super ghostly white? Im glad it didn't yey! She is acidic so i use a lighter foundation on her because when you're acidic the foundation on your face gets darker after a while of wearing it.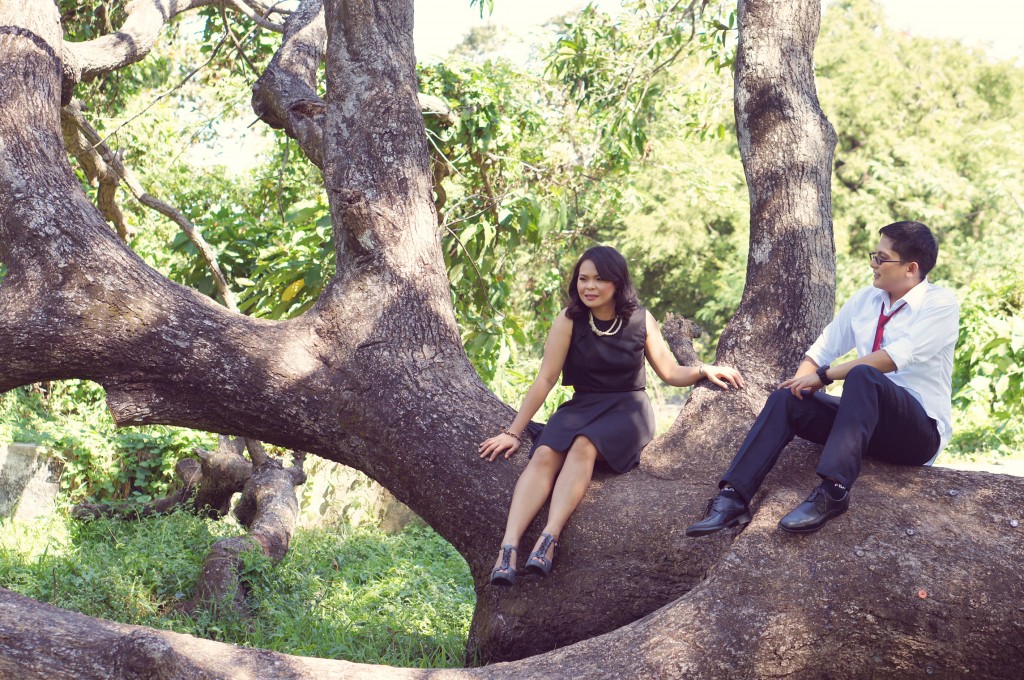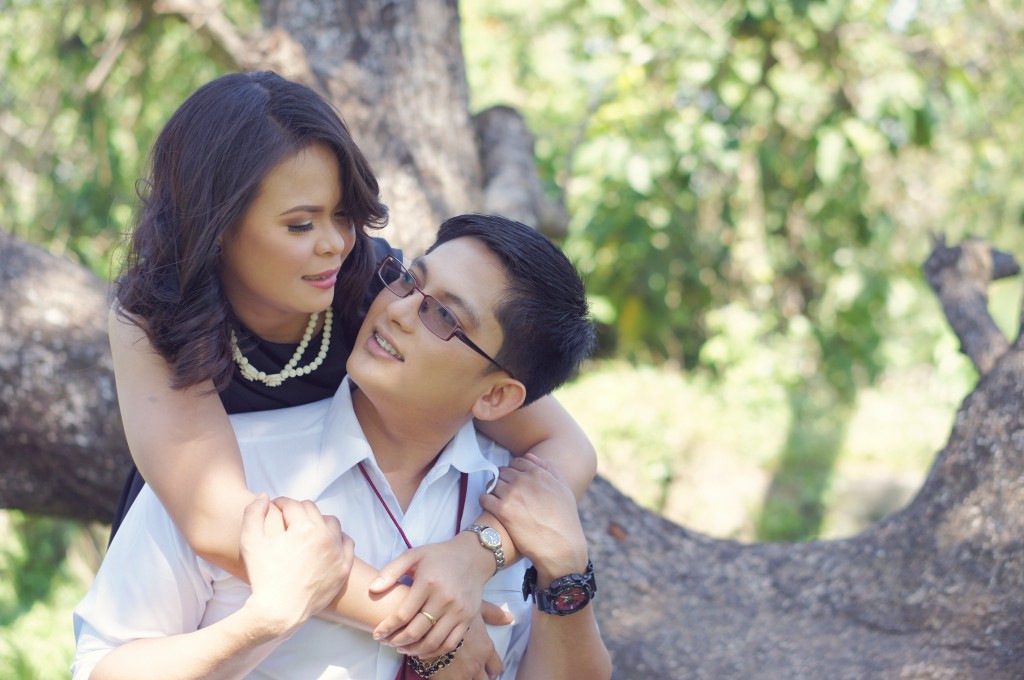 I wasn't just a make up artist that day, Im also a "PA" to the couple and to the photographer haha! I was holding the props and the reflector of the photographer. "Kuya, i-charge ko na lang sayo additional TF ko ha.. haha!" Since I'm familiar with the place, I help them where to shoot. And I also  help direct the couple how to pose with the help of my experience. Kunwari guys you are talking just say "watermelon, watermelon." "Okay, look at each other." "Sis, place your hand on his shoulder" "About to kiss!" and all that. Oh, I also helped with the crowd control too! hahahah!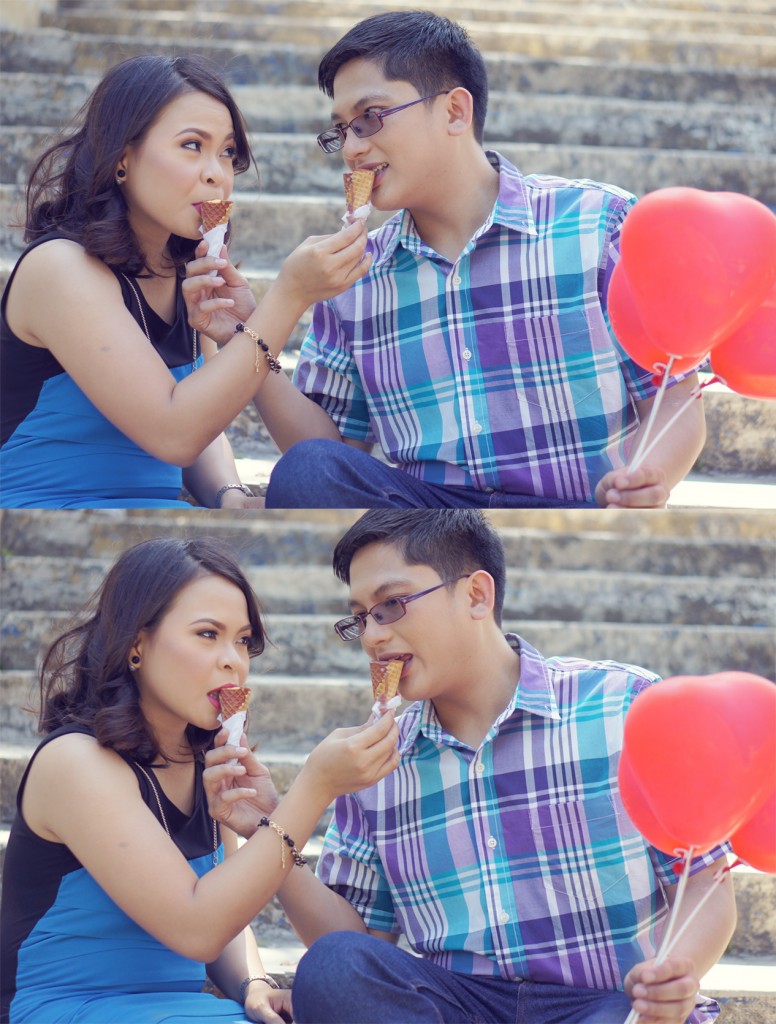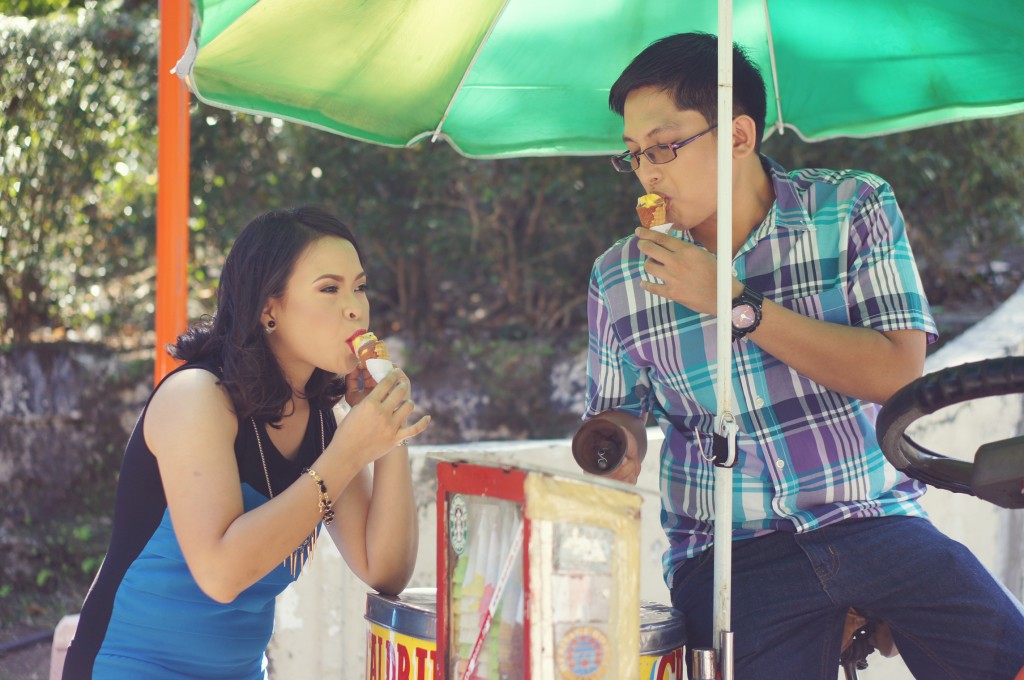 We saw an ice-cream vendor in the area. It's not just an ice-cream, it's a Crystaldrin ice-cream that is owned/managed by my boyfriend's mom. What a coincidence! hehehe! Since kuya Arnel, the vendor is familiar with me, he let us use his ice-cream bike as props.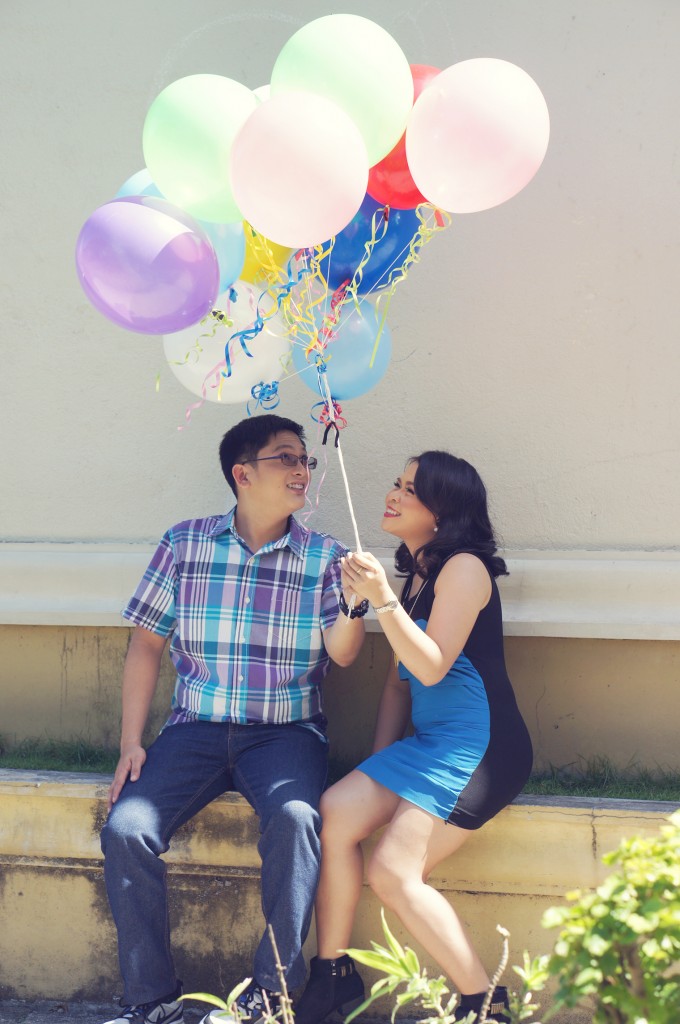 Does her boots looked familiar? It's my Pabder boots! =) I lend her some of my shoes inside my car. You know when some girls just have a mini closet in their car by accident? hahahha! Its a good thing it fits on her! Yey!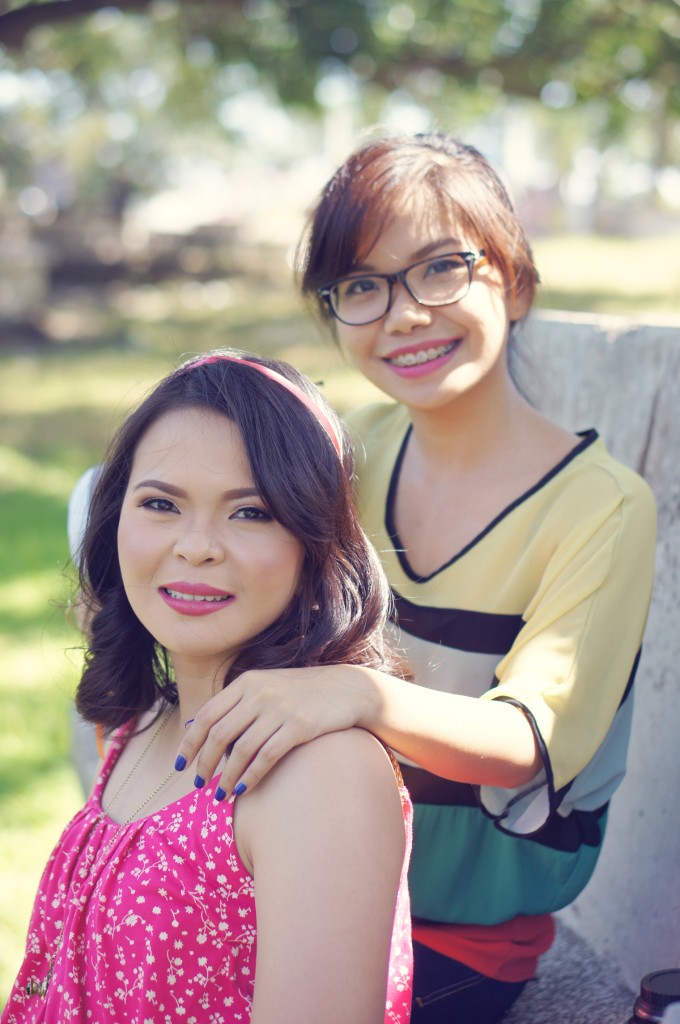 If you wonder why i look haggard in the photo, well I have this bad habit of not sleeping on time or not sleeping at all. Thank God I can survive hours of make up gig or shoots without sleep. hihi.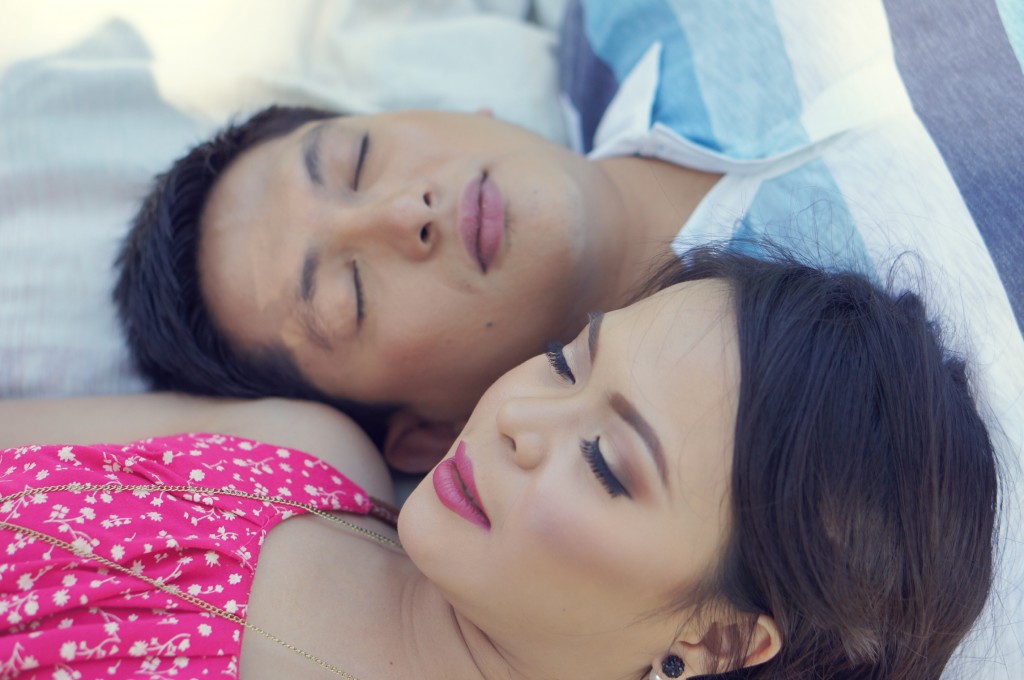 Close up of her make up.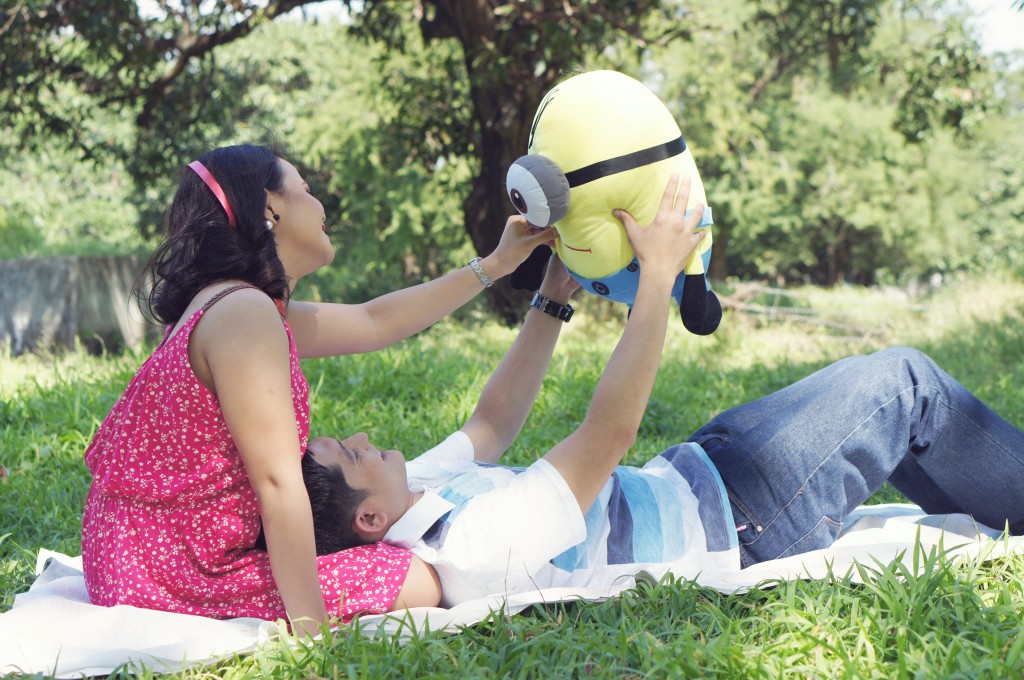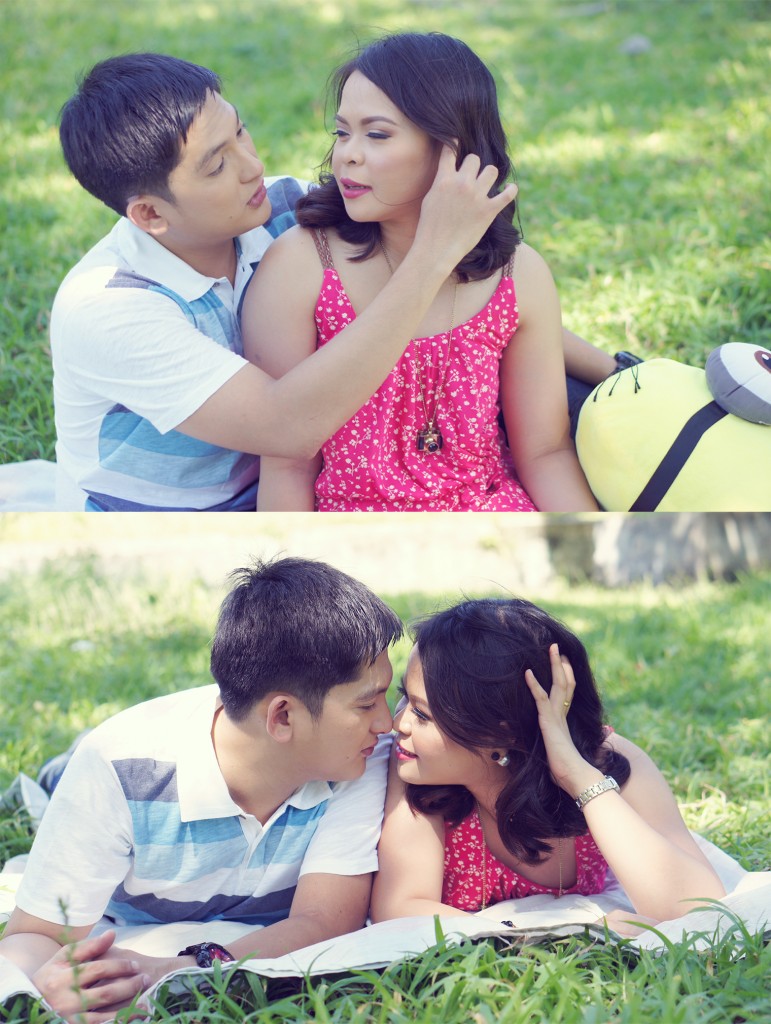 They have 3 outfit changes and by 1:00 in the afternoon the shoot is done! Yay! it's a wrap! The official photos from Freedom, the photographer will be posted soon by the couple. Their wedding is on Feb 28 but unfortunately I cannot join them on their big day because I will be in Singapore from Feb 26-March 3. I might not be there but I wish you guys all the best!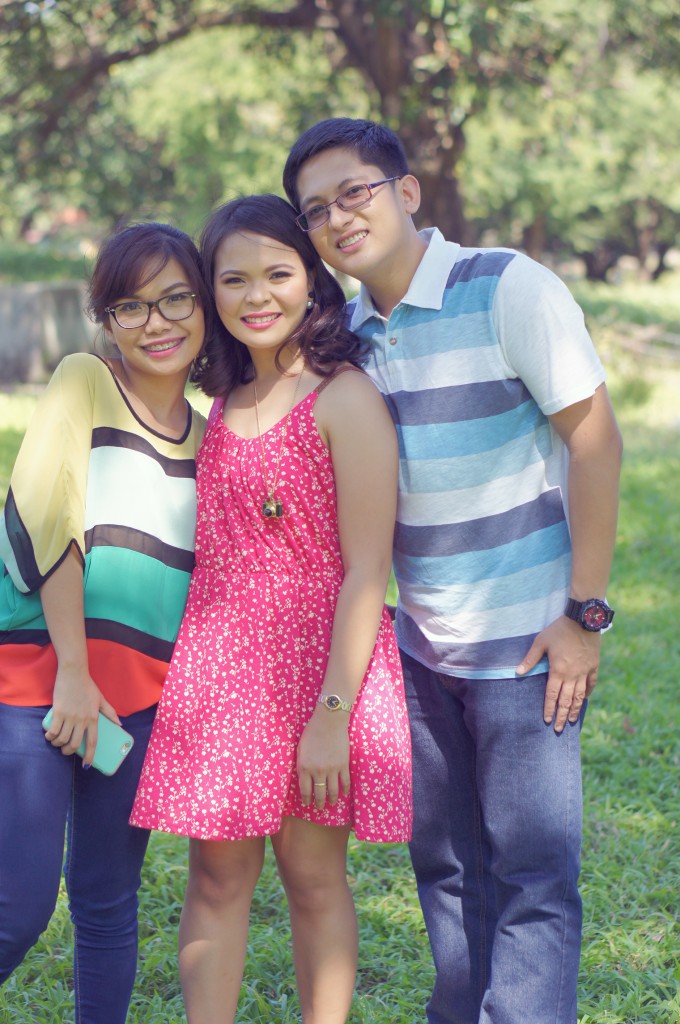 Thank you so much Jeric + Rosel for trusting me to do your hair and make up on your prenup. I know you guys had fun with the shoot! Continue to love and respect each other! May God Bless your relationship. Congratulations!